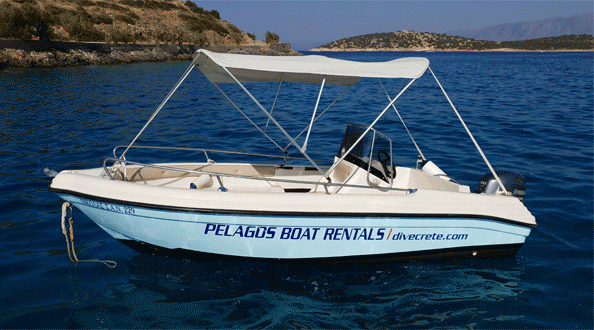 Drive a small power boat and be the captain yourself.
Enjoy the crystal blue water of the bay and the coastline, stop for snorkelling, swimming, fishing or just sunbathing.
A few minutes of detailed instruction will help you have an enjoyable and safe trip, and understand the simple operation of the boat and engine.
The boats have a sun canopy, a ladder that makes getting back into the boat easy, all safety equipment and a spare fuel tank.
SMALL BOAT 15 HP
Self drive up to 4 persons
1hr = 70€ / 2hrs = 120 € / 3hrs = 160 € / 4hrs = 190€
Including : fuel, insurance + vat.

SMALL BOAT 30 HP
Self drive up to 5 persons (Only for people with boat handling experience):
1hr = 80€ / 2hrs = 140 € / 3hrs = 190 € / 4hrs = 240€
including : fuel, insurance + vat.

Cool box with ice packs and water, area map and full instructions
Customers are required to have a fully charged mobile phone.
Customers can also bring their own towels, snacks and drinks.
Snorkelling gear can be provided free of charge.

Copyright © 2001 - 2020 Pelagos Dive Centre. All Rights Reserved.